Coming to the end of these travel posts for Europe and I cannot end without talking about the actual cruise – the ship. We were booked on the Norwegian cruise ship EPIC and I was sup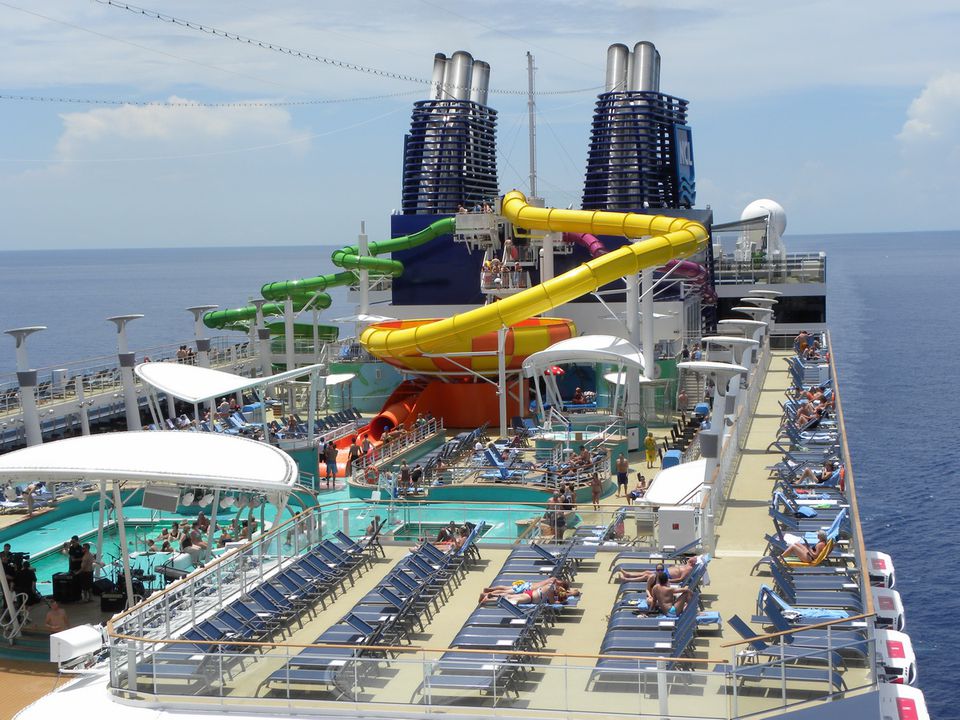 er excited about boarding. Not only was this my first cruise, but a few weeks prior a group of author friends went to Book Splash on board the same vessel! So I was more than excited since I missed that convention.
We met it in Barcelona, Spain and as our taxi pulled onto this beautiful bridge, to the right of us was this massive, floating city with blue nacelles and yellow sliding tubes along the top. I was becoming very excited. Guys who worked for the ship met us at the car with large silver carts to take our suitcases, tagged them and brought them to the ship for us. They would later deliver them to our doors which was very convenient. We didn't have to worry about dragging them through the lines with us.
What I found very convenient was that the lines moved very fast. They told us what we needed to present (boarding pass, passport etc) and we got those ready. Our purses were checked, they signed us in and gave us numbers as to what order we would board. All that took little to no time at all which was amazing for me.
When we boarded, our rooms weren't ready. So, we wandered the ship, trying to find out way.
There was plenty to see, from the casino, different restaurant, posters for shows, bars, an art gallery – it was amazing.
When our room was finally ready, we made our way to it. Our suitcases hadn't arrived yet so I spent most of my time on the balcony taking pictures of the port and watching other ships around us.  Then we had to go muster – apparently, legally, before a ship can go anywhere, they have to do this. It's when they set off the emergency alarm and you have to report to your station. Once you do that, they scan your keycard (this is a card you use for everything) and you wait. Then they show you how to get off the ship in an orderly fashion in case of an emergency, how to use the life vests, where are the escape pods, who to follow, what to listen for – that kind of thing. When it's all done, we get to finally start cruising.
Now, let's get into the real point of this post.
The Staff:  I didn't have one bad experience with a staff member. They were fantastic – kind, helpful, funny. If they didn't know the answer to a question, they ask you to wait while they found out for you. If they couldn't find the answer, they directed me to client services. Which was a breath of fresh air. Our room steward was from India and he was the most amazing person ever. He would clean our rooms and when we came back, ther
e would be a folded animal on our beds. It always made me smile. Our room was kept pristine but these guys and I was so happy. Sometimes I felt bad crawling into bed after an outing because it was so nicely done.
Our ice bucket was always full. I drank the melted water or when we came back from Sorrento with Limonchello, the ice came in handy.
The meal staff were amazing too. One chef was always singing a tune which was so good to hear. He always had a smile and a kind hello no matter if you see him at his station, or wandering around checking on the people or in the halls. The restaurant staff were nicely dress, clean, polite – it was really nice.
Ship services: My mother was stunned at the number of paid services on this ship. Basically you get the basics with your package – your room, certain foods, juices, alcohol. Now, the alcohol I understand. The juices you had to pay for were the good stuff. Then there are these machines at the top floor restaurant with juices that weren't sweetened. The colouring was weird and those are the free ones. I drank water mostly when I was on board.  This was my mother's first time on a Norwegian but she's cruised with other ships before and never had this issue.
We went bowling and was told we had to pay for that AFTER we bowled. We wanted to go to the Japanese restaurant on board, yup, that was extra. We wanted to see Epicurean, their version of Cirque Du Soleil, extra. The Spa was extra – everything that was considered high class was extra.
It turned out to be more expensive than we originally planned – WAY more expensive. Which I think wasn't cool at all. Yes, I agree, certain things should be extra but some of the things they were charging for was ridiculous. So for that reason, I would never take a Norwegian again.
Shows: Though we didn't end up seeing the Epicurean show – we did see Pricilla Queen of the Desert on stage, as well as the Beatles Tribute and Burn the Floor. I am a sucker for a Latin dance show where they mix tango, with the waltz and contemporary – it was spectacular! The Beatles tribute band was amazing as well. I was expecting a bunch of men who barely looked or sounded anything like the Beatles but I was super happy with the show.
As a HUGE fan of the movie, Priscilla, Queen of the Desert, I went into this with my nose up and highly skeptical. I was terrified because my very Christian mother was with me. But, we watched the show and it was amazing. I don't mind a little nudity or cursing for art sakes but my mom was a little taken aback by it. Other than that she enjoyed the music and the comedy. I am always amazed whenever I see this show in whatever format.
The ship overall was very clean and very lively. The restaurants were nice except for one that is located in the middle of the ship called TASTE. A certain part of it is under an opening and above that is the casino. Since people are allowed to smoke in the casino the smell of cigarettes drift down into the restaurant.  I was not im
pressed by that and didn't want to go back. The second time went much better as we were seated in another section.
All in all, I'm not sure I'd cruise Norwegian again. I mean the staff was fab, and the shows amazing but the food wasn't all that and the cost is too much. I wasn't impressed with that at all.
But, I did have fun. For my first time on board a cruise ship it was memorable. If you are thinking of cruising do all the research first. See what their paid services entails and what comes with your ticket.
If you don't, you're going to come back in debt and at that point you're going to have to weight the cost versus the experience. I know these things are expensive but for this one there were too many surprise costs. My mom was horrified and she's a cruiser–she's been on at least a cruise a year for the past five or so years. So imagine the shock when we finished bowling and was told we now had to pay. It was interesting and maddening all at the same time.
Hugs,
Kato
.